Patriotic

shirts, vests, jackets, caps, ties, scarves, presidential rulers & booklets, flag booklets, pillows, totes, aprons, etc.

Patriotic PIQUE POLO - 

100% combed cotton, 7.25 oz, 

star appliqué on front, contrast 

printed inside yoke, embossed 

4 buttons front placket, printed 

twill tape.

Men's Sizes S – 4XL

Ladies Available in Sizes S – 3XL 

Available in white and red colors.

Freedom T's

100% combed cotton

6.5 oz. quality

Available in red or white

Adult sizes from small to 5 XL

Youth sizes from s, m, l available only in white

Denim Collar * Straight Back Yoke * Pieced Twill Fabrics With U.S.A Flag Print * Regular Mens Sizes * Tall Mens Sizes * Regular Ladies Sizes *

All-American Shirt * Straight Back Yoke * Nice Pieced Twill Fabrics Resembles U.S Flag * Denim Collar * Short Sleeve,  for ladies and men

Ladies is also available in sleeveless.

Patriotic CAP and Visor

100% heavy brushed cotton 

twill, 6 panels, low profile, 

structured cap, pre-curved 

visor, velcro closure.

*Multiple colors available

*military caps                           *hunting caps                *camoflage caps and others.

Matching Scarves 

are also available at the same price.

Patriotic Ties

100% silk stain resistant patriotic neck ties. 

58" standard length.

$12.00 per tie plus shipping.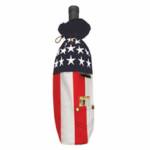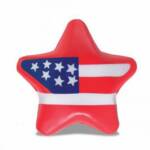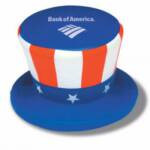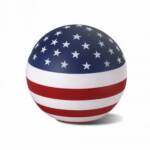 PATRIOTIC AUTO WINDSHIELD SUN SHADE

Red White & Blue collapsible fabric sunshade. Will adjust to fit all cars and SUV's. Compact, easy-fold, 

STAND out BOLDLY in the crowd with the unique fabric sunshade with the easy-fold system.   Collapsible fabric spring wire design for full windshield coverage. Collapses to approximately 10% of original size, held together with built-in elastic. 

Further Description: Comfort • Safety • Visibility

Reduces temperature inside vehicle, adding comfort and safety to passengers, while protecting interior of car from the harsh sun rays.  

Overall Size : Approx. 26" x 56"  

Approx. Imprint Area : 15" x 16.5" 2 x Double imprint per shade.  

Pricing:

Quantity

1-24

25-74

75-150
Price

   $15.00    $12.50       $12.00
Plus shipping

Imprint on quantities of 50 and above $65.00.

Storage pouch available for $1.25 each.

Patriotic Wine Bag

Red, White & Blue twill fabric with rope closure, front pocket for business card. Embroidered Stars.

"A Toast To Freedom"

Patriotic Tote

100% cotton canvas tote bags with embroidered stars on Freedom Tote. Tote has 2 front pockets, zipper closing bellow bottom for extra storage, front pockets for added storage.  18.5" x 16"

Patriotic Lady's Apron

Red, White, and Blue poly cotton apron with multiple stars. Single pocket with yellow ribbon embroidery for lady apron.

Patriotic Men's Apron

Red, White, and Blue poly cotton apron with multiple stars. Has 2 front pockets, pocket at left front for pen or thermometer and adjustable strap.  32" x 25"

Patriotic Pillow

Soft & washable. Has zipper to remove pillow for washing. Pillow can also be embroidered as well. 

Patriotic BBQ mitten

Extra Long double sided mitten for either right or left hand.

Presidential Ruler

2 1/2" x 12 1/4" x .020" white vinyl plastic.  Standard Presidents photos are printed in 4 color process on the back.  Standard inch and centimeter scales are on the front.

American Resource Consultants

Jewell  West
913-682-6304         
 jwest@lvnworth.com
Patriotic Pencil

First pencil is also available without eraser for Nebraska County voting.

Can be stock or personalized

Poll worker zipper bags are 3 inches by 4.5 inches.

Patriotic Canvas Tote

Cotton canvas tote bag. 

Front open pocket. 

Open main pocket. 

inside zipper pocket. 

Patriotic bag design. 

22" handles.

$20.00

Each Blank
Imprinting - $50.00 Set-Up - Minimum of 12

New!   Flag Mouse Pad 

Size   8" x 9.5"

QTY        

PRICE *Plus shipping
1-50          

$2.50 each
51 - 100    

$2.25 each
101 and up

$2.00 each
includes re-order info in lower right corner.

Be sure to look at the

 Re-Election page for additional patriotic products. 

Patriotic Bottle with red, white and blue. 

Thank you!   Printed on it.

Food Safe and dishwasher safe.

Triton FDA compliant

Straw inside with fold down on the top of the cap.

Bottle shown with straw cap pulled up.

$4.50 each in any quantity plus shipping.

Available NOW!